Notes from the Field
Elizabeth Cady Stanton and Susan B. Anthony Statue Fund campaign launches to break bronze ceiling in Central Park
November 12th marks the 199th anniversary of the birth of women's rights leader Elizabeth Cady Stanton.  In celebration, the Elizabeth Cady Stanton and Susan B. Anthony Statue Fund Inc. announces its campaign to create a statue in New York City's Central Park honoring Stanton, Anthony and all those who fought for women's right to vote (Woman Suffrage).  It will be the first statue in Central Park's 160 year history built to honor real women.  Pam Elam, President of the ECS and SBA Statue Fund, stated "there are statues in Central Park of Alice in Wonderland, Mother Goose, Juliet (with Romeo), and numerous representations of the female form (like angels, nymphs and allegorical figures), but statues celebrating the vast and varied contributions of real women to this City, State, and Nation are nowhere to be found."  Elam added: "We intend to break the bronze ceiling by honoring these women and their work for equality and justice." 
A Letter of Intent, as required by NYC Parks Department guidelines on donating works of art, was sent by the Statue Fund to the Mayor and Parks Department Commissioner in February.  The Statue Fund's first meeting to discuss the proposal with representatives from the Parks Department and the Central Park Conservancy occurred on September 19th.
Coline Jenkins, Vice President of the Statue Fund and the great, great granddaughter of Elizabeth Cady Stanton, said that "by honoring Elizabeth Cady Stanton, Susan B. Anthony, and those who fought for the vote, New York City will also be honoring the largest nonviolent civil rights revolution in the history of our nation."  In addition to honoring Stanton and Anthony, a list of the names of those whose work was crucial to the success of the struggle will be inscribed around the statue's base.  Those honored include Sojourner Truth, Lucy Stone, Alice Paul, Lucy Burns, Mary Church Terrell, Carrie Chapman Catt, Anna Howard Shaw, Matilda Joslyn Gage, Ida B. Wells-Barnett, Alva Belmont, Harriot Stanton Blatch, and Alice Stone Blackwell. 
Read more: Elizabeth Cady Stanton and Susan B. Anthony Statue Fund campaign launches to break bronze ceiling...
Seeking LGBT Women Who Fought on the World War II Home Front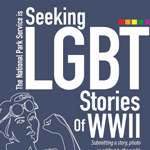 Near San Francisco, in Richmond, California, one of the industrial hubs of World War II has been preserved as Rosie the Riveter/World War II Home Front National Historical Park (www.nps.gov/rori). Once bustling 24/7 to build the ships crucial for fighting and winning World War II, the park now preserves and interprets the history of the war effort that supplied the equipment and supplies that made victory possible. This park focuses on the Home Front, the disrupted lives of women, their roles in producing industrial might (one company switched its manufacture from vacuum cleaners to gas masks) and its many effects from child care to pre-paid health plans that impact us today.  In addition to interpreting many historic sites throughout the city, including, the Ford Assembly Plant where jeeps were assembled and the SS Red Oak Victory, one of the 747 ships built in these shipyards, the park focuses on the women's stories. 
If you're very lucky and go there today you'll meet two amazing women, each truly living history. They lived through World War II and very much want to share their experiences with park visitors.  Park Ranger Betty Reid Soskin, an African American woman now 93, worked during World War II as a file clerk in the segregated Union hall, Boilermaker's A-36. Today she presents her story several times a week. Flora Nimomiya, a Japanese American woman who often greets visitors, shares a quite different story. As a young girl, she and her family were forced to leave their cut flower business behind while they were imprisoned in a Japanese American internment camp. They returned after World War II to find their greenhouses full of broken glass windows, only to rebuild again as shown in their video "Blossoms and Thorns: A Community Uprooted" (available from the Rosie the Riveter Trust for $10.)
In addition to these women, Rosie the Riveter/World War II Home Front is now seeking to find LGBT people's stories from that era. Many of these people are now in their 90s, making finding them and collecting their stories of the greatest urgency. Some of their stories can only be told now. The park recently launched a campaign to collect stories from lesbian, gay, bisexual and transgender World War II era civilians. 
In March 2014, the park hosted an event in Walnut Creek, California, to celebrate the park's LGBT outreach effort to find  anyone who could contribute information or artifacts from this era. The event that honored Bev Hickok, 95 years old, a former riveter/inspector at Douglas Aircraft from 1942 to 1943, as well as a "WAVE" (Women Accepted for Volunteer Emergency Service) from 1944 to 1946.  Ms. Hickok published a novel based upon her experiences, Against the Current, Coming Out in the 1940's. As a "WAVE" with the U.S. Navy, she had to hide her lesbian identity since she would have been dishonorably discharged if she had been discovered.  Her publicist read excerpts from her book describing Hickok's first day at the aircraft factory-- "It was like stepping into an inferno, filled with the intermittent roar and thud of guns and the high-pitched shrieking of drills, sounding like maddened insects." The keynote speaker was Therese Ambrosi Smith, author ofWax, a fictional account of two lesbian shipyard workers in the Richmond Kaiser WWII Shipyards.  
Read more: Seeking LGBT Women Who Fought on the World War II Home Front
Women's History Really is Everywhere
This article comes from NCWHS vice-president Lori Osborne (@EHC_Archivist), Archivist at the Evanston History Center, located in the Charles Gates Dawes House, a National Historic Landmark. The Evanston History Center and Lori were recently recognized by the Illinois Association of Museums for Where Are We? Mapping Our Way Through Evanston History, an exhibit of historic maps that Lori curated.  Lori also directs The Evanston Women's History Project, a "collaborative community effort to document and celebrate the significant contributions of Evanston women and women's organizations to the community."
Here at NCWHS we are always saying that women's history is everywhere. This past week I discovered just how true this really is.
As part of a group of 90 adults and teenagers from my local Presbyterian Church, I participated in an Appalachian Service Project trip where we worked on people's homes in the rural mountains of Eastern Kentucky. We were located near the small community of Hazard, Kentucky, and our home base for the week was Lotts Creek Community School. The building we stayed in is a new, modern K-12 facility built in 1998. It functions as a community center as well as a school, and is a beehive of activity. During our week Vacation Bible School was held there every night and the school's high school boys basketball team were there practicing 24/7. We were gone much of the day with our work projects, so did not see the high level of activity that we could tell went on there while we were gone.
I started to get interested in the school's history when I saw, as I arrived, the historical marker placed near the original buildings up the hill from the new school. We showered in and got supplies from two of these buildings, the old school and gym, and I could tell that these were interesting though run-down structures. My interest continued when I saw all the framed old photographs of students, teachers, sports teams and prom queens lining every bit of open wall space inside the new school. There were also brochures about the school everywhere, but in the midst of a busy week of constant activity, I did not pick one up at first.
Interpreting Gender and Sexuality at Historic Sites
This article is the first of a series reporting on the survey NCWHS conducted in Spring 2014 on "Interpreting Gender and Sexuality at Historic Sites." Prompted by the events described below, the survey also probed some other themes in and around the interpretation of women's history, which we will report in future posts. Here, NCWHS boardmembe rMarla Miller starts the ball rolling by sharing an expanded version of her remarks at the recent NCPH meeting in Monterey, California.
In March 2014, I had the pleasure of participating in a session at the annual meeting of the National Council on Public History called "Gender: Just Add Women and Stir?" with Bill Adair and Laura Koloski , both of the Pew Center for Arts & Heritage, Leslie Guy from the African American Museum in Philadelphia; and Cathy Stanton, a public historian whose many hats include professor at Tufts University and chair of the NCPH's Digital Media Group.
The session emerged from a 2013 study trip to historic sites in and around Boston hosted by the Pew Center for Arts & Heritage in which participants, which included Cathy Stanton, were (as the session proposal indicated "struck by the wide variety of ways they saw gender and sexuality interpreted—or in some cases, not interpreted at all." The session would pursue some of the questions prompted by the trip, including "Where is the interpretation of gender and sexuality in 2013/2014? How do we move beyond the 'just add women and stir' model of gender interpretation? How do we build on the progress made at a small number of historic sites now interpreting LGBT history? What are your questions? Join us for a spirited conversation about the future of gender and sexuality at historic sites."
Read more: Interpreting Gender and Sexuality at Historic Sites
Remembering Adrianne Wadewitz
The NCWHS extends its deepest condolences to the family, friends and colleagues of the remarkable Adrianne Wadewitz, an extraordinary leader among those of us who work to preserve and educate about the history of women.  Just 10 days after Adrianne led the marvelous NCPH workshop "Wikipedia 101" (described below), she fell while engaging in one of her great passions—climbing—at Joshua Tree, and died as a result of her injuries. An article by Cathy Davidson on the HASTAC website captures the collective shock and dismay as word spread through the many communities touched by Adrianne's warmth, intellect and collegiality.  A wonderful post on her blog describes her passion for climbing and what she learned from it--well worth a read.