The Sojourner Truth Memorial Committee (STMC), Suffrage100MA and the city of Northampton, Massachusetts, hosted the Annual Sojourner Truth Memorial Celebration on Sunday, May 28, 2023, at 2pm at the Sojourner Truth Memorial Park in the village of Florence, Northampton (near where her former home once stood).
 (Photo credit: Christopher Winslow Photography; Unveiling of Sojourner Truth Women's Suffrage Marker by Sojourner Truth Memorial Committee and elected officials. From left are Diane Liebert, Carol Rinehart, Reynolds Winslow, Northampton Mayor Mayor Gina-Louise Sciarra, Carlie Tartakov, Wendy Sinton, Rep. Lindsay Sabadosa.)
 (Photo credit: Christopher Winslow Photography; Sojourner Truth Social Justice Scholars, Sojourner Truth Memorial Committee, Suffrage100MA and elected officials.)
Honoring the legacy of extraordinary abolitionist, suffragist, and activist Sojourner Truth, the event featured the annual scholarship presentation by the STMC and an unveiling of a historic women's suffrage marker as one of five new Massachusetts marker sites on the National Votes for Women Trail, and live music by the Amherst Area Gospel Choir. Speakers included Northampton Mayor Gina-Louise Sciarra and Representative Lindsay Sabadosa.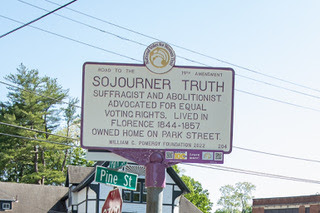 (Photo credit: Christopher Winslow Photography; Sojourner Truth Women's Suffrage Marker, now one of five Massachusetts markers on the National Votes for Women Trail, located at Sojourner Truth Memorial Park in Florence, MA.)
(Photo credit: Christopher Winslow Photography; Suffrage100MA Founder and President Fredie Kay speaking during the Sojourner Truth Memorial Celebration at the end of May.)
Media: Sojourner Truth historic marker unveiled in Florence
Submitted by Michelle Juralewicz, Program Coordinator, Suffrage100MA