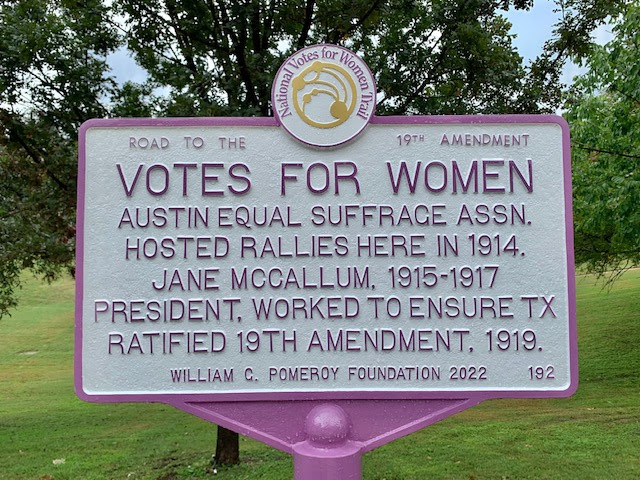 "Oh My God, are we going to get torpedoed again?" Joanne Callahan wondered as she drove in the splattering rain to the dedication at Wooldridge Square Park on October 28. She couldn't stop thinking of when the Nona Boren Mahoney dedication got cancelled at a popular Dallas Jazz Age Festival two years ago because of COVID lockdowns.
But the event coordinators were resourceful and they held it indoors at the Austin History Center, across the street from the park.  Eight local political and cultural leaders, including US Congressman Lloyd Doggett, gave speeches. They emphasized current voter suppression issues, threats to democracy, the curtailment of women's reproductive rights and the impact of Jim Crow on the suffrage movement.
State Representative Gina Hinojosa (pictured above, second from right) touched on the Texas suffragists' political sophistication when she said that Minnie Fisher Cunningham's "we'll vote for you if you vote for us" tactic may seem cynical but that is the way that things get done in politics.
Catherine Alvarado Cilfone (pictured above at the podium) represented the Women's History Sites Collaborative and called the suffragists great Americans. She vividly recalled what her grandmother, Maclovia Uresti, one of the first women to vote in Victoria, Texas in 1920, said about her experience:
"I have my card to vote and I'm gonna vote and no one is gonna stop me!" 
The rain stopped during the event and it enabled the team to unveil the marker, take lots of pictures and walk to the legendary Austin Club for a delightful lunch.
This dedication was not only a milestone for Austin women's history but for Joanne Callahan, Sehila Mota Casper, and Catherine Alvarado Cilfone (pictured below L to R).  They had worked together virtually on Texas suffrage markers for the past five years, but this was the first time they had met in person: